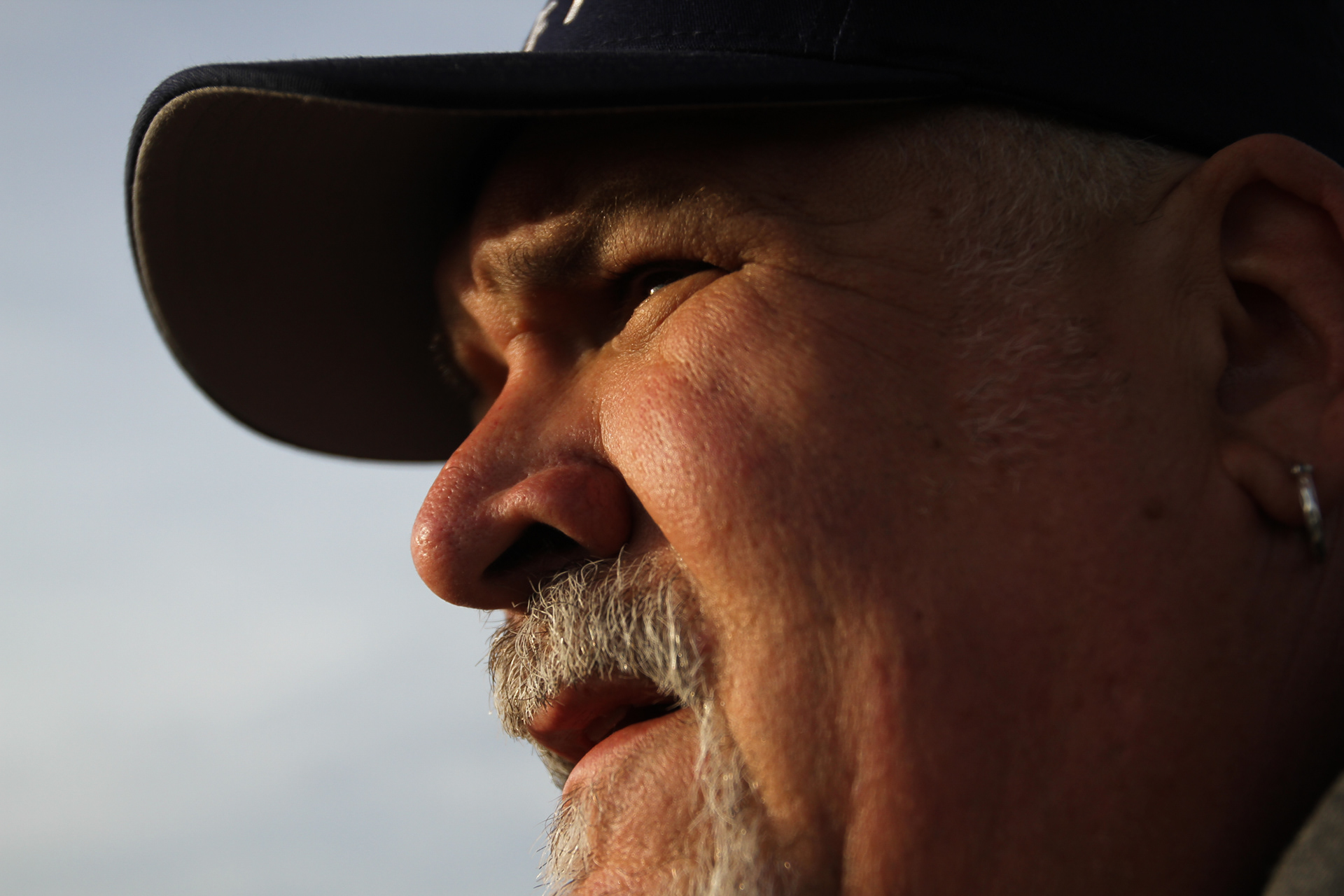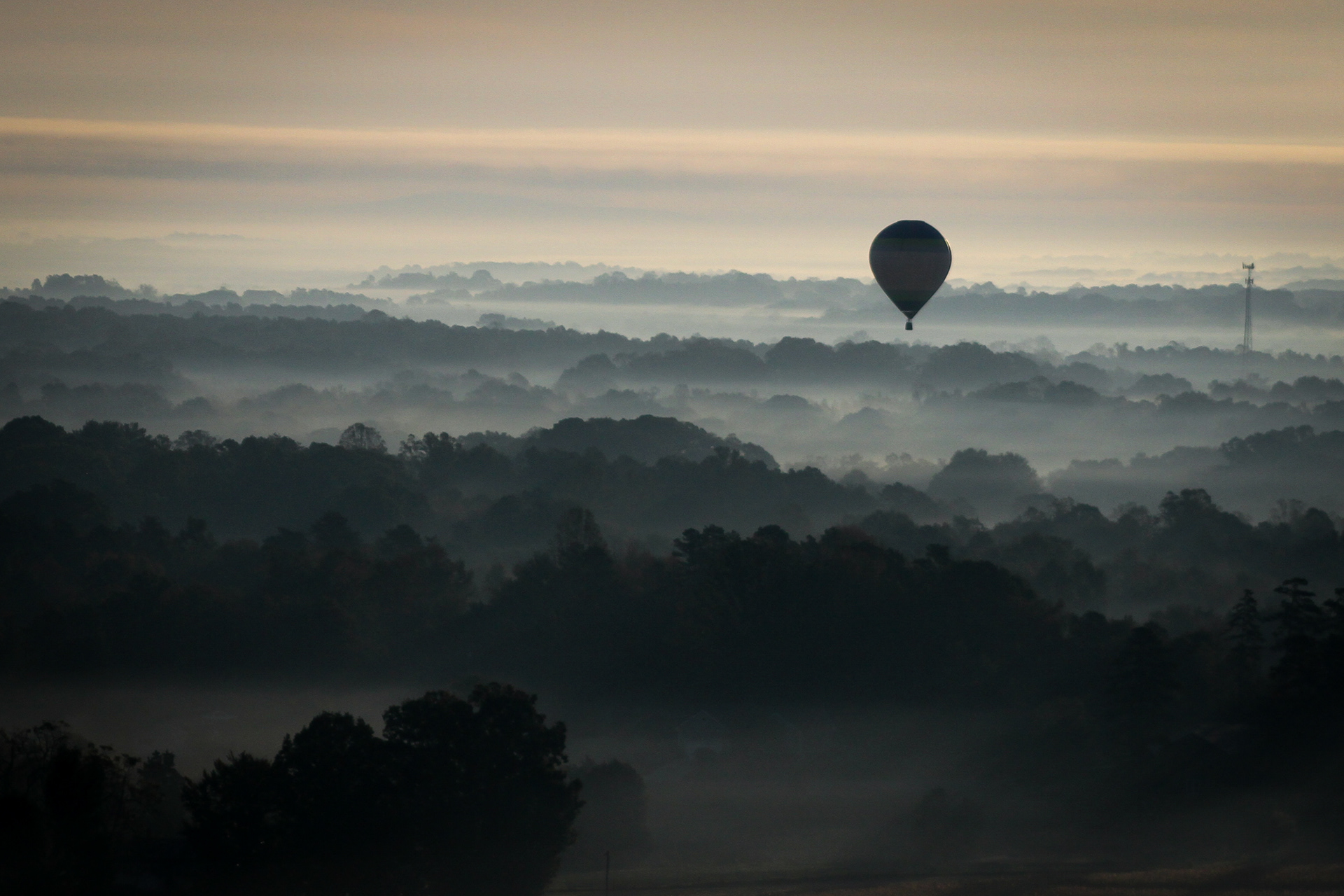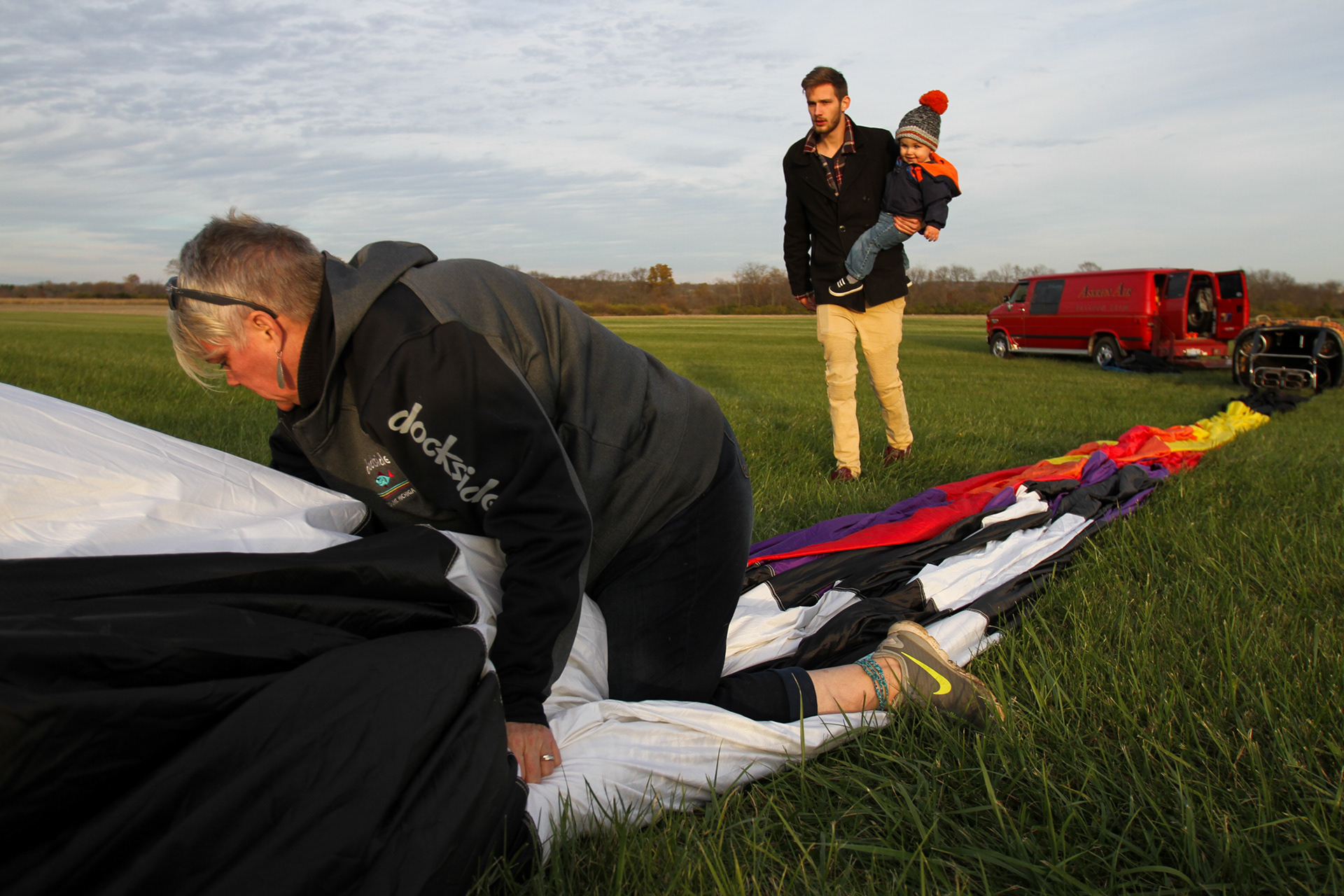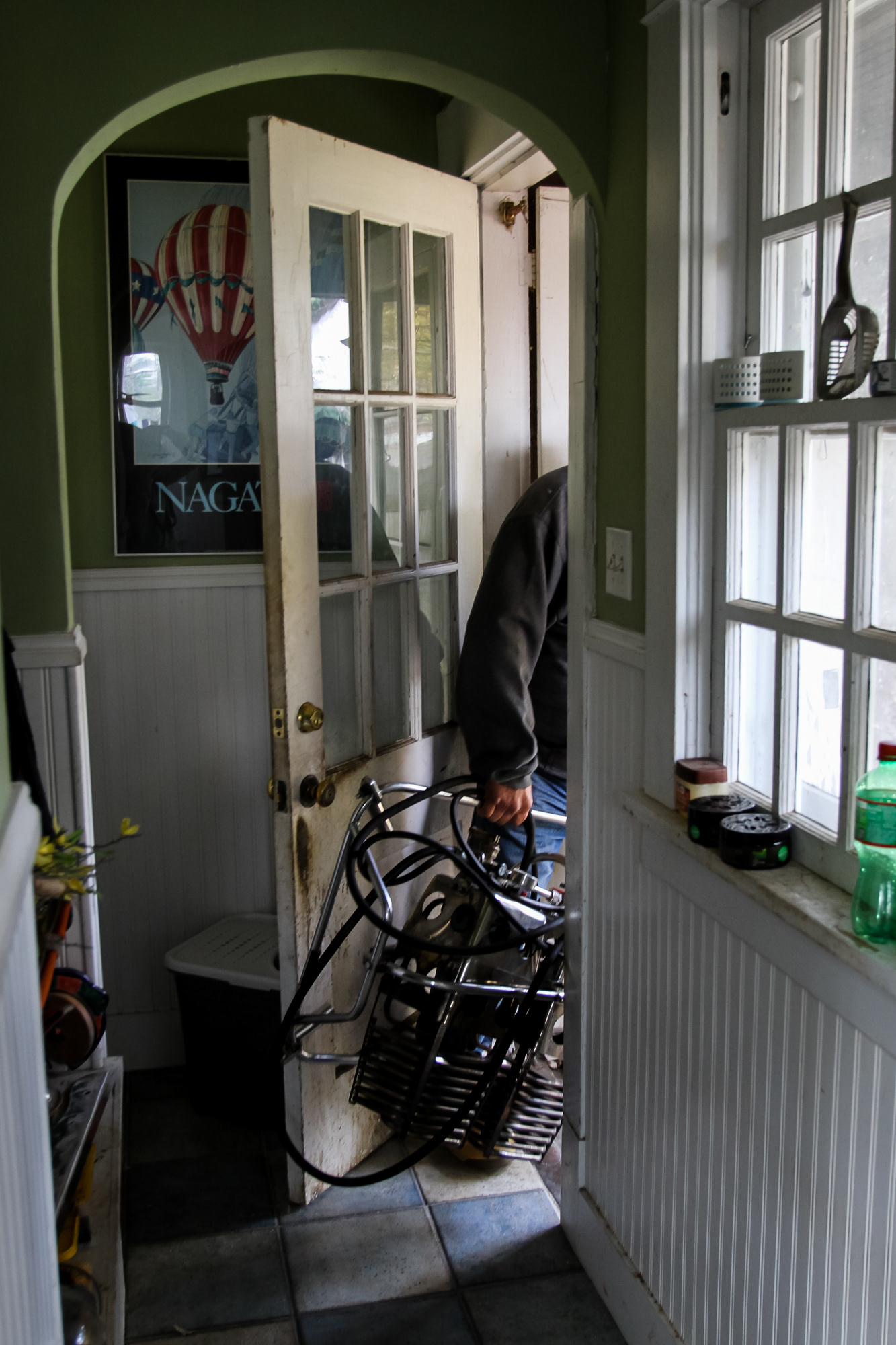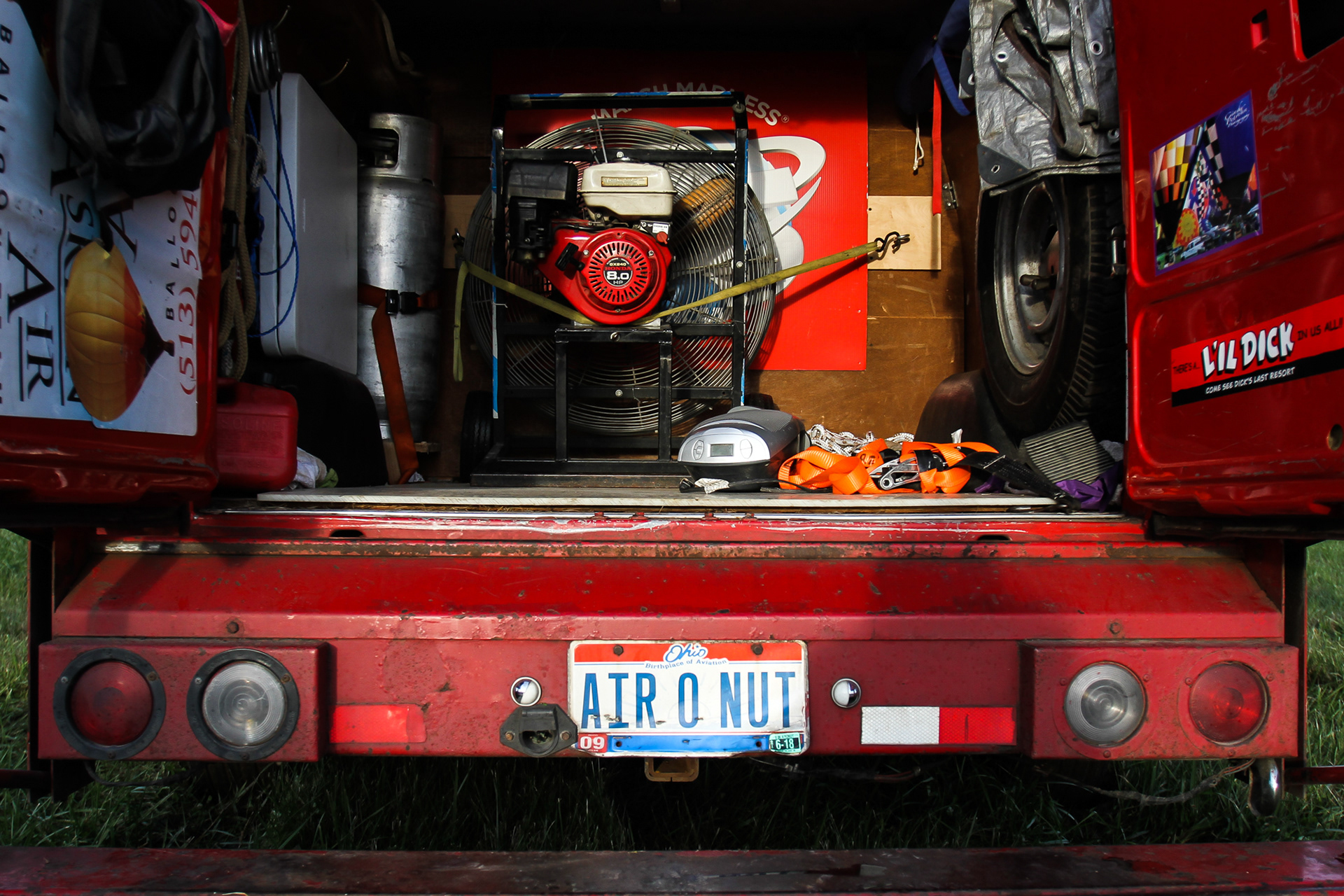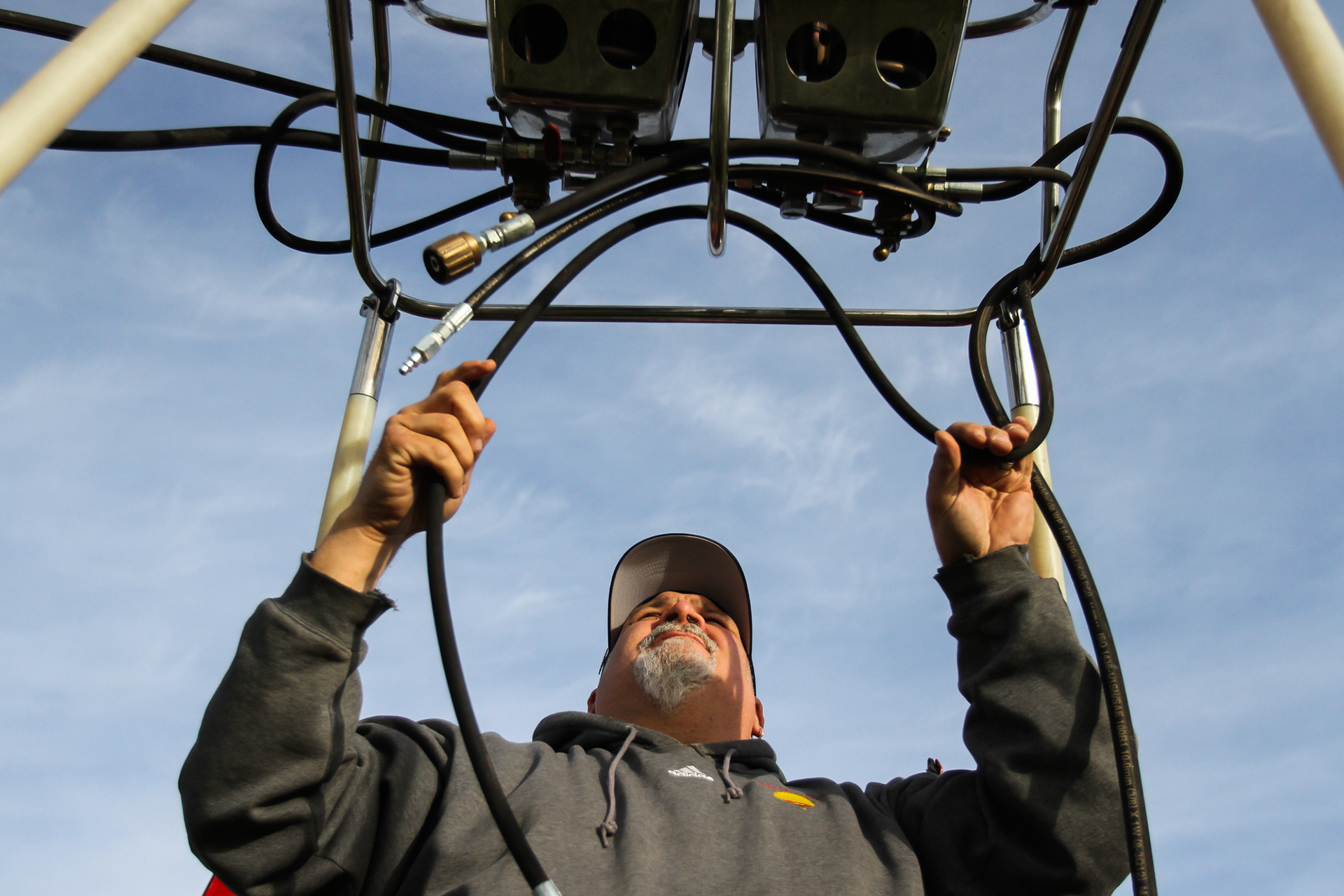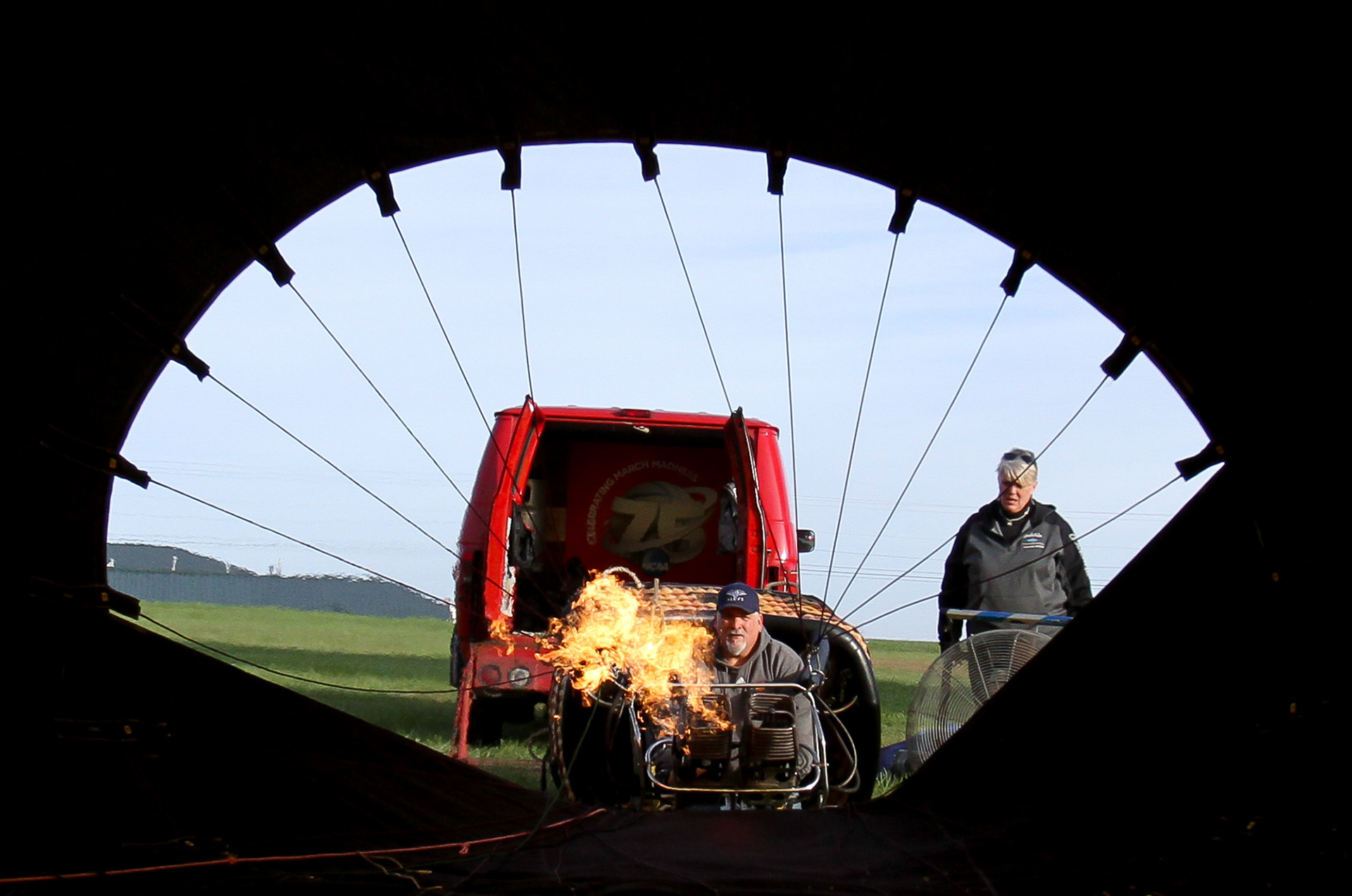 Continue for full story...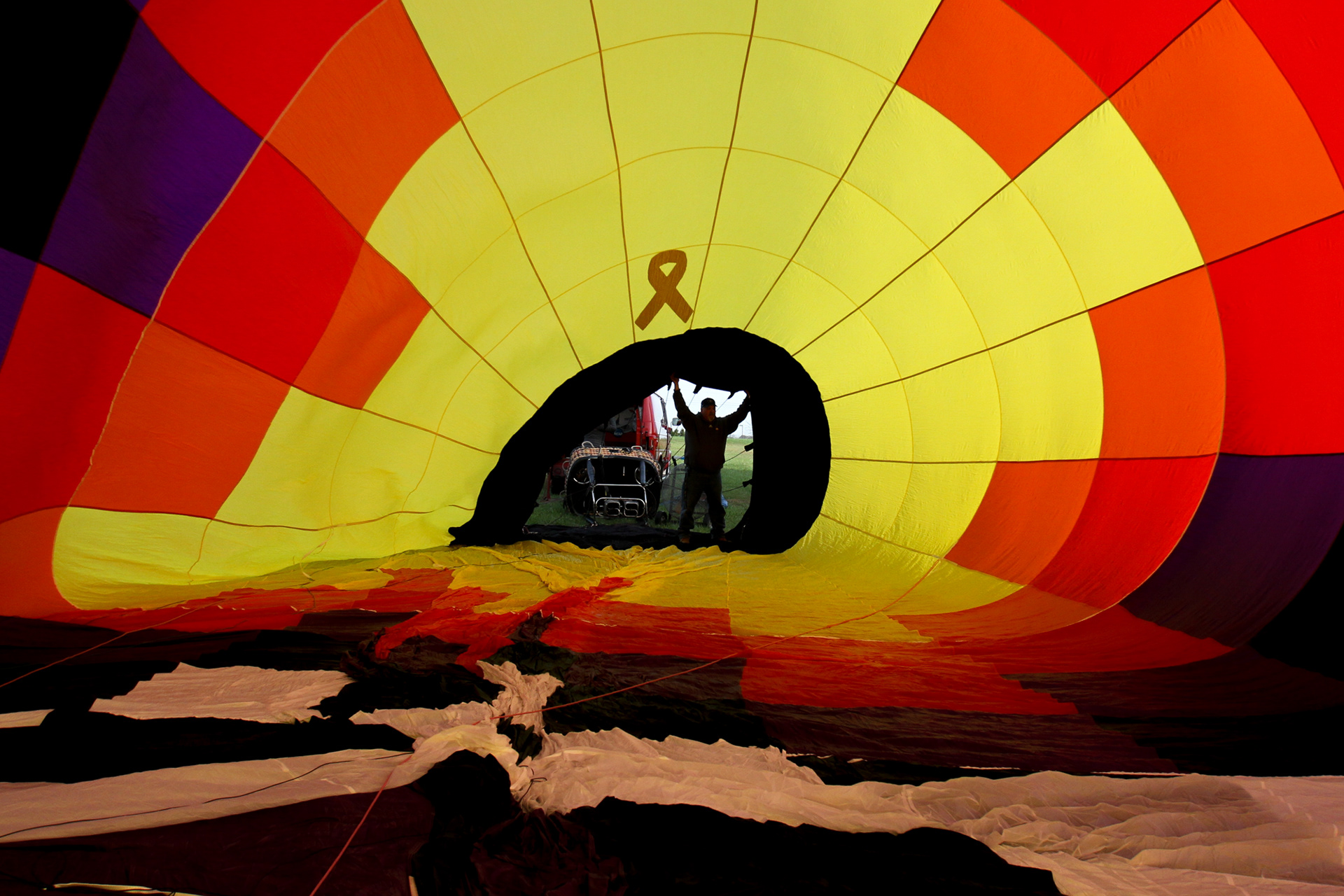 Sean Askren, 51, has been a balloonist for 40 years. He rode a balloon for the first time at the age of 11, with the help of his dad. His father, Larry Askren, taught him everything that he knows about ballooning. "I developed my love, passion, and work ethic entirely from my dad," Sean said. "I hope to continue to make him proud because everything I do is to make him happy." Larry unfortunately died about 2 years ago from pancreatic cancer, but that hasn't stopped Sean from ballooning. Sean's attached the purple pancreatic cancer symbol on one of his favorite balloons to keep his dad close at all times. "First year after he died was hard," he said. "But I had to get over it because dad would want me to continue to give this experience to other people."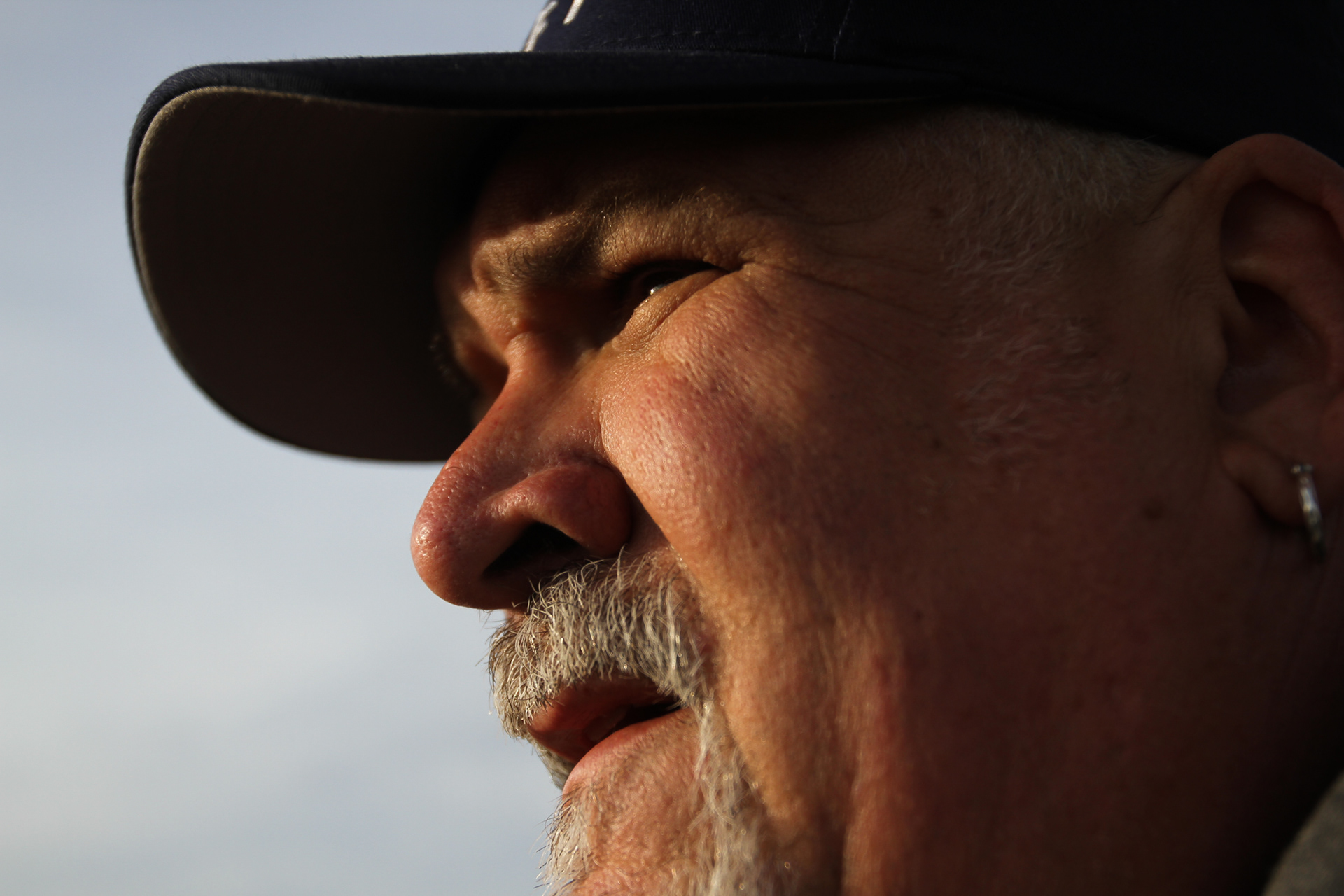 While Sean balloons for fun, he also likes to make money at the same time. "Ballooning is like eating ice cream," Sean said. "Except you can do it for a few hours a day and make decent money from it." He competes in hot air balloon races and competitions at about 26 events a year—he's flown in every continental U.S. state from over Niagra Falls to across the Grand Canyon. He's competed in 5,000 competitions and has won hundreds. But sometimes, the competition doesn't go his way, like at the Carolina Balloonfest in Statesville, NC where he placed 11th and prizes were given up to the 10th place. "Competitions can get intense and I can get frustrated," Sean said. "It's hard not to when there are a bunch of balloons gathered around and you can't get into the right place." On the other hand, Sean has many competitions he's proud of. The first competition he won was a 2-week series competition in Chicago and Iowa in 1989, when he won $8,000 in that short period. "In that same year, I won The Great Cincinnati Balloon Race," Sean said. "A competition in my hometown."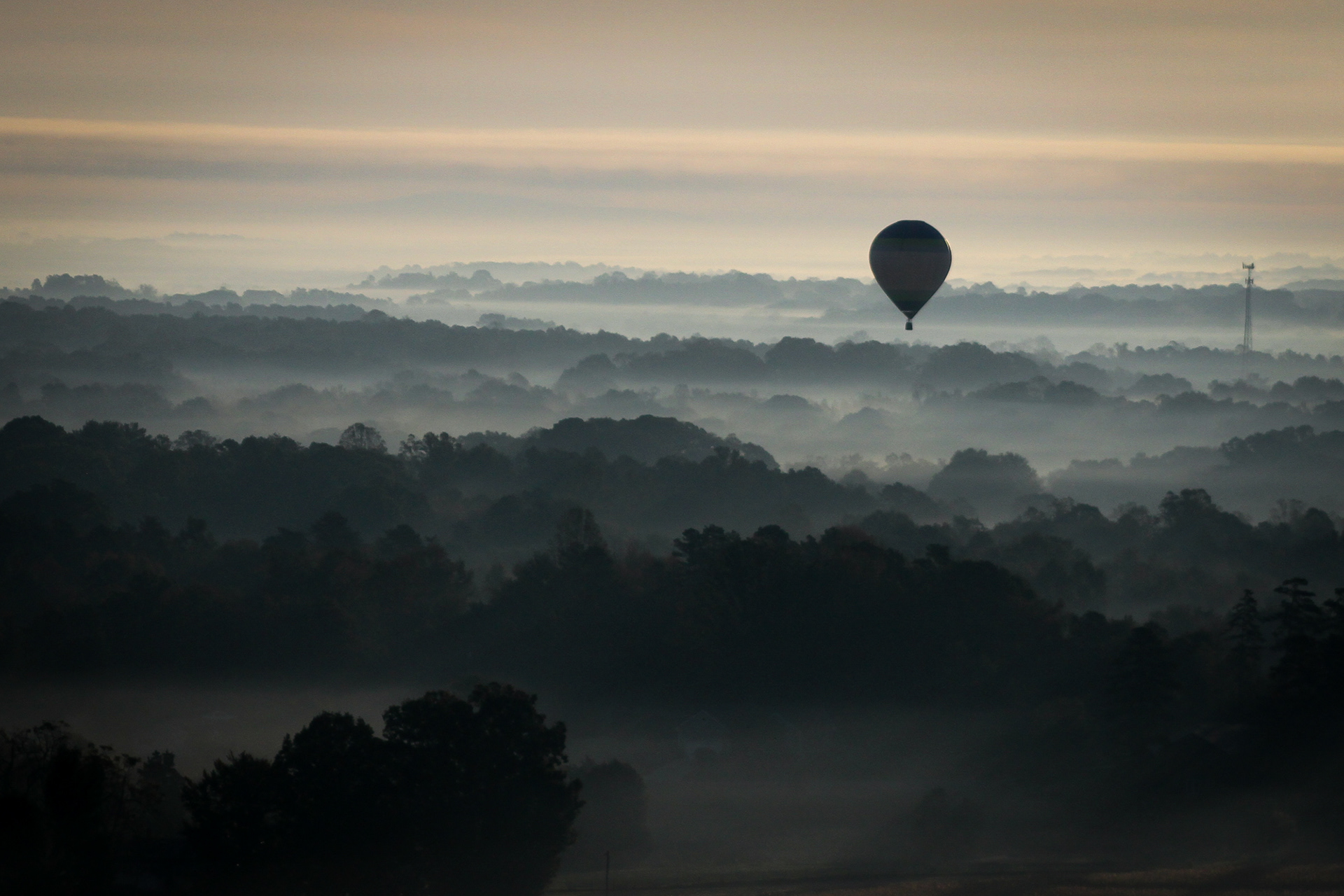 Ballooning is such a big part of Sean's life, and the reason he does it is to bring happiness to his family and to those that don't normally experience hot air balloons. "It started as a family thing," Sean said. "And then I developed a passion." Sean commercialized and created his own business at a young age of 19, and has enjoyed the feeling of being up in the air for many years. When he's not giving others rides or practicing for his competitions, Sean enjoys flying solo to escape. "Sometimes I go up and put headphones on to get away from everything," he said. Ballooning is truly a heavenly and freeing experience for him.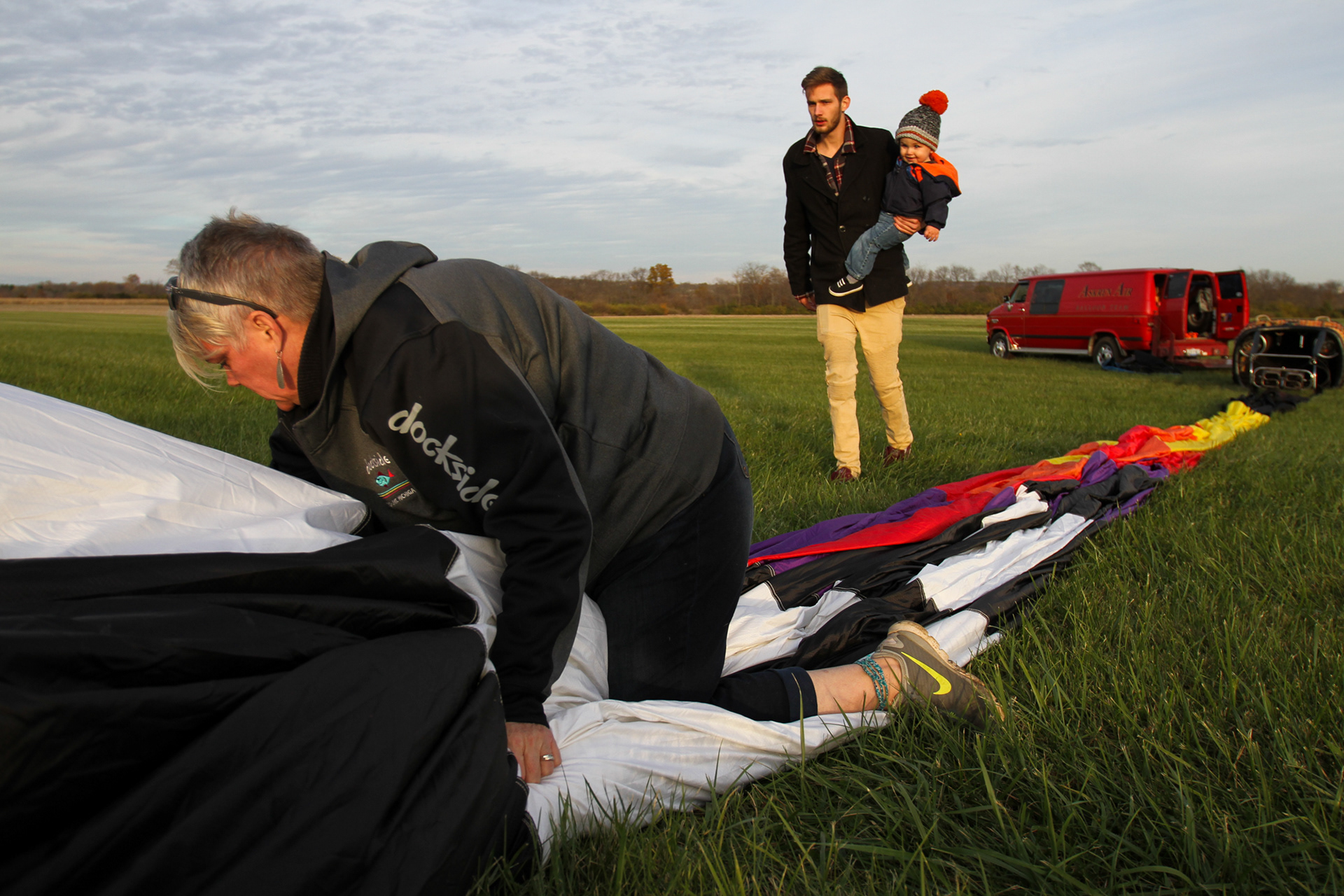 Sean's life as a balloonist is intertwined with his family life. Sean is a husband, a father, and a grandfather. His wife, Amy Askren, often accompanies him on his trips to the ballooning events across the states. Sean's stepson, Grant Motley, and grandson, Asher Motley, participate in the ballooning as well. "I would love to have my kids and grandkids all be involved in ballooning," Sean said. "It brought my dad and I very close and I would like to see it keep my family close." Sean wants ballooning to continue in his family generation through generation because it brings joy, closeness, and is very family-oriented.

There isn't a special time in Sean's life when his family and ballooning don't collide. Sean proposed to Amy in a balloon in Middletown, Ohio. He spent hours mowing the grass to spell "Will you marry me, Amy?" and proposed while flying thousands of feet in the air. "She was really surprised," Sean said. "She didn't think I would put the time and energy into a proposal like that." Sean and Amy just celebrated their 14th anniversary together. While Amy is a huge part of Sean's life, so is Asher. Asher spends every other weekend at their home, and they visit at least a few times a week. "One of the only words Asher knows is 'balloon'," Sean said.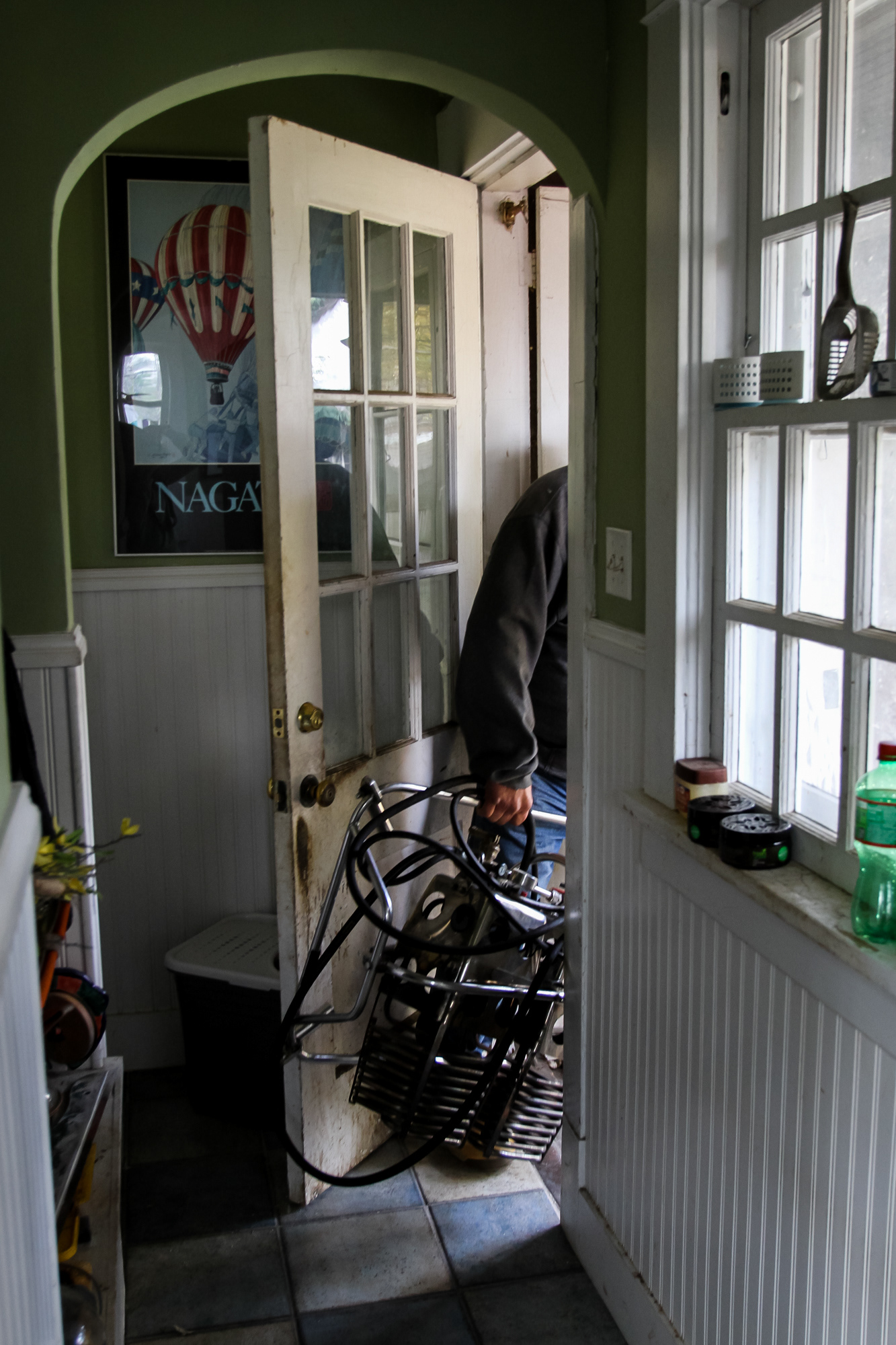 Ballooning is an expensive hobby. A basic balloon with minimal design and color will start at the price of $20,000, not including the basket. "One balloon is 7 stories high, and can fit up to 60,000 basketballs inside," Sean said. "The balloon weighs about 250 pounds." The burner, which Sean holds here, can weigh up to 50 pounds. Sean keeps this equipment in his garage and his van.

Sean has a special van that he uses to carry all of his equipment. Covered with some stickers he's acquired from many different events, his van definitely shows his personality as well as his accomplishments. In his van, he must fit the balloon, the burners, and the tanks—and the basket is attached on the outside of the trunk. Sean considers himself the "doer of things" in that he's always busy doing things both balloon and family-oriented, as as well as community-related.  "I mostly participate in the corporate side of ballooning, but I will also do smaller advertisements for local businesses." Sean said.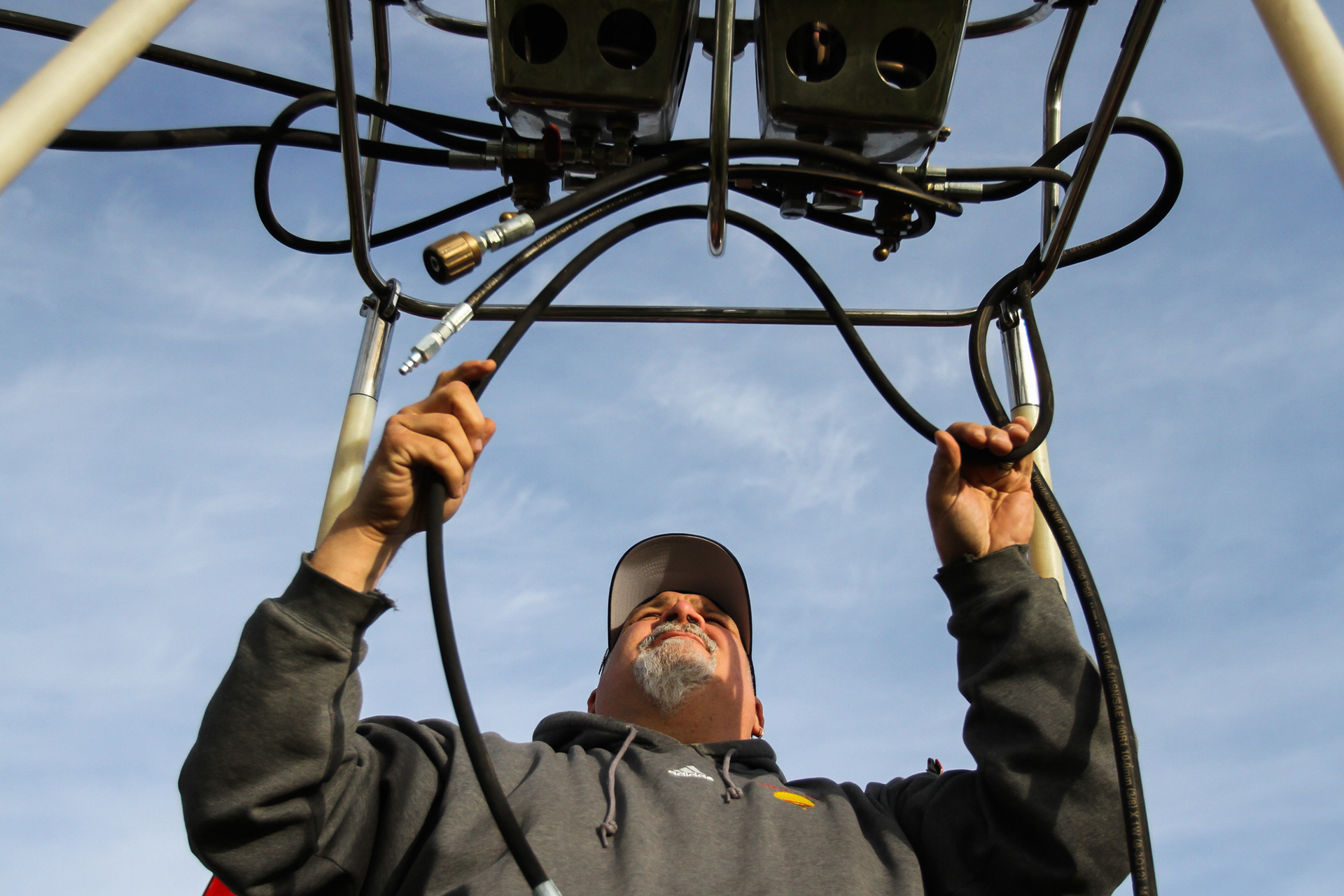 Setting up the balloon to fly can be hard work. Equipment is heavy, and setup and break-down combined can take up to 40 minutes. "Rides are usually from 45 minutes to an hour, give or take," Sean said. "But you can lose track of time while in the air."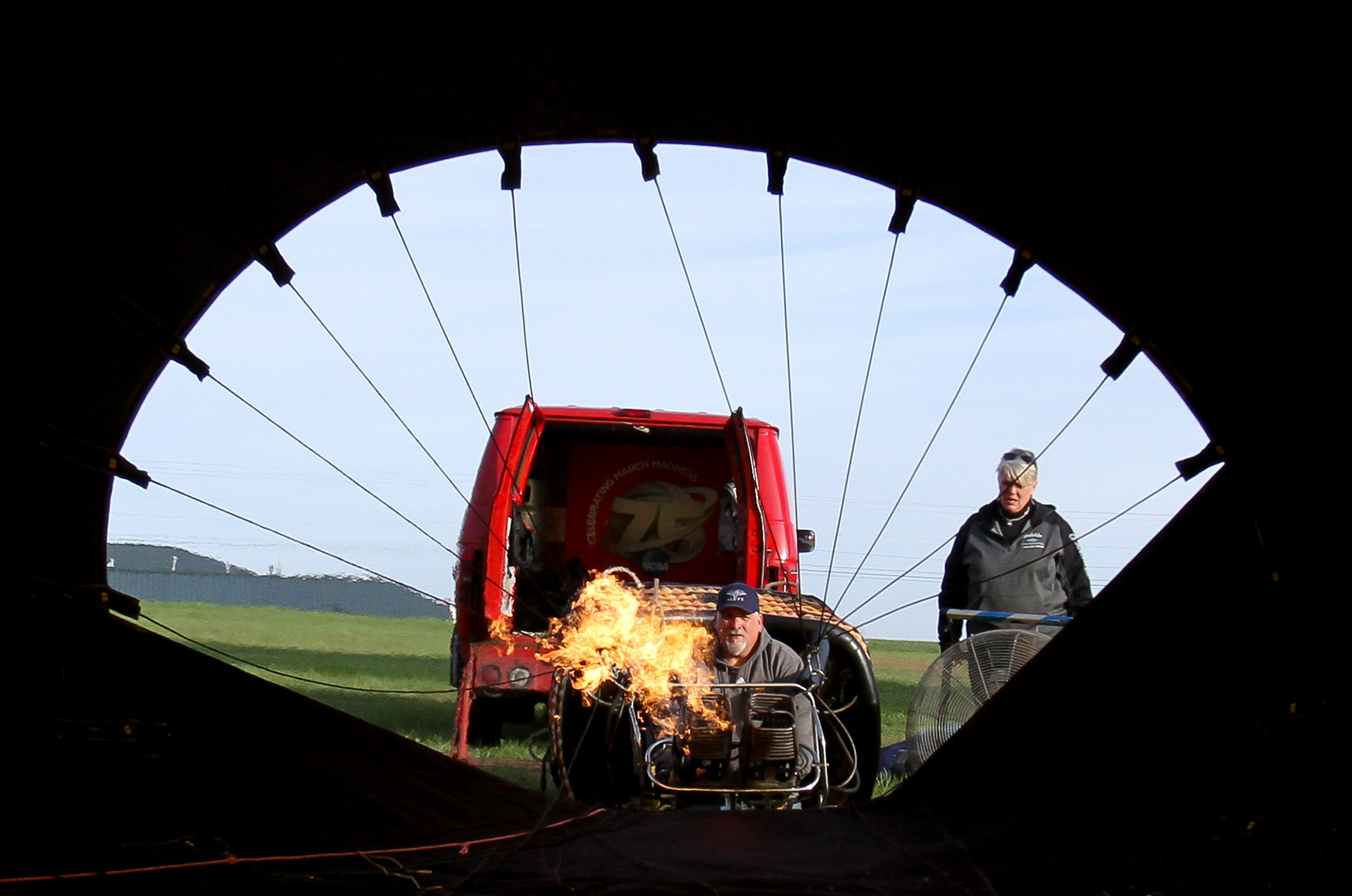 Family is very important to Sean, and he juggles both time with the balloons with time with Amy and Asher. Amy is a faculty administrator at Dayton University in Ohio, and cannot always accompany Sean on his trips. Sean can't always be home either but ballooning is still such a special family time for them both even when their schedules are busy. Sean first shared his love for ballooning with his dad, and now he shares that same love with his wife.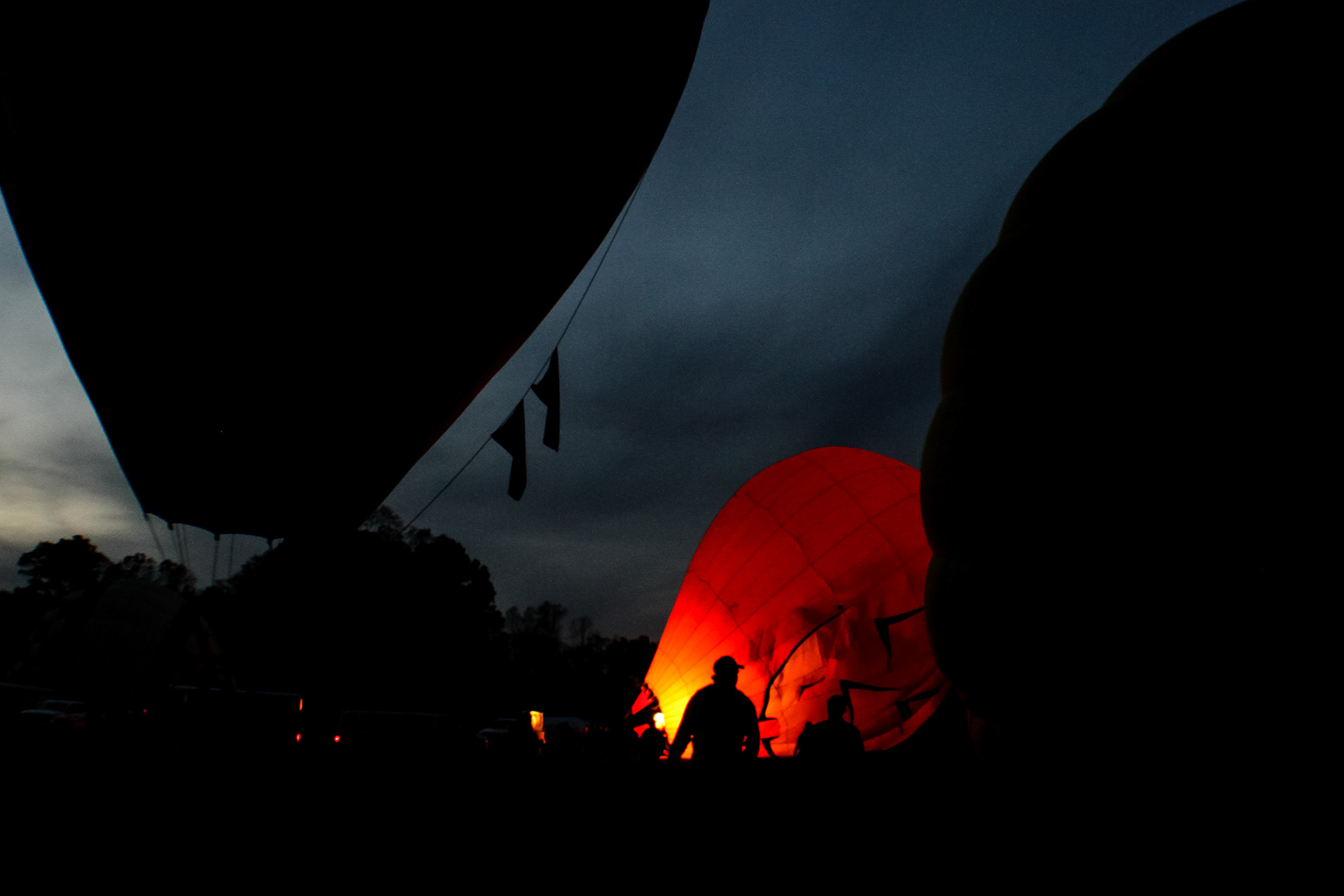 While ballooning will always be a part of Sean's life, he's looking to try something new. "I've bought my last personal balloon," Sean revealed. "But I'm not retiring." He wants to get more involved with another hobby that is less expensive and not as time-consuming. For him, that's motorcycling. He owns a Harley Davidson Road Glide and will go on roadtrips much like he does with the ballooning van. Nevertheless, ballooning will always have a special place in his heart. "I'm branching out to something different," Sean said. "But I will always fly."